Chicken and 3 Cheese Enchiladas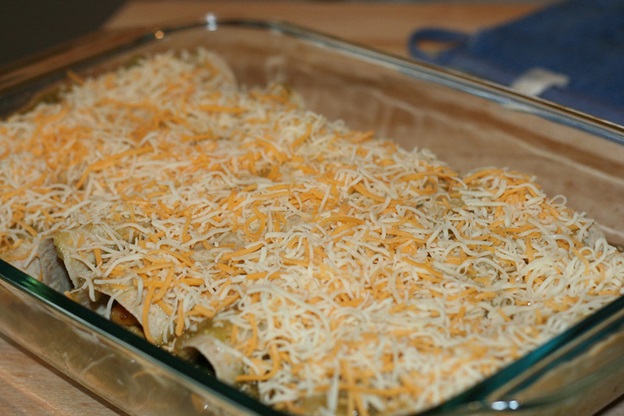 I grew up in Colorado where I was practically raised on Mexican food. Not really, but there seemed to be Mexican restaurants everywhere and we could eat Mexican food to our heart's content. Mexican food was simply a way of life for me. I attended college in Texas where there was even more of a variety, and then I lived in California; same thing there. But everything changed when our family moved to Maine. Maine is a beautiful state with so much to offer, but it has severely lacked in Mexican restaurants until just recently.
Consequently, all the wonderful food that I was used to ordering in restaurants, I suddenly had to learn how to prepare, if I was ever to eat good Mexican food while living in the wilds of Maine. After having asked around and with much trial and error, I found several good recipes that I use on a fairly regular basis. One of our family favorites is Chicken and Three Cheese Enchiladas.
The necessary ingredients are:
2 dozen four tortillas
1 pound of chicken (cooked and diced)
2 cans diced tomatoes (about 11 ounces each)
1 4-ounce can green chilies
4 ounces of goat cheese
8 ounces shredded cheddar cheese
8 ounces shredded pepper jack cheese
1/2 cup cilantro, chopped
1 onion, chopped
1 cup heavy cream
1 TBSP chicken bouillon
Instructions
To begin, make sure the chicken is diced in small, bite-sized pieces. In a large sauce pan combine the chicken, tomatoes, green chilies and onion; begin cooking them at medium high heat and then lower the heat to low and allow the mixture to simmer for about 10 or 15 minutes.
Next add the goat cheese and cilantro to the chicken and tomato mixture and stir thoroughly. Take out your tortillas and put a spoonful of the chicken mixture across the middle of each tortilla; then roll them tightly and lay them evenly in a greased tortilla cooking pan. For this recipe, two tortilla cooking pans are usually needed; about 8-10 of the rolled tortillas should fit in each one. Some of the mixture will ooze out the ends of the rolled tortillas, but that's ok.
Cover the tortilla cooking panwith foil and bake at 325 F for 15 minutes. While the rolled tortillas are baking, put the cream and bouillon into a sauce pan and simmer and stir until they are combined. After the tortillas have baked for 15 minutes, pour the cream mixture over the tortillas, recover the comal tortilla pan, and then bake for another 10 minutes.
After 10 minutes take the foil off the comal tortilla panand sprinkle the cheddar and the pepper jack cheese over the rolled tortillas. Put them back in to back, uncovered, for another 5 minutes. This will be just long enough for the cheese to melt properly and run down the sides of the enchiladas.
When the enchiladas are ready, serve them hot with Spanish rice, refried beans and a fresh green salad sprinkled with cilantro. If you want to freeze these enchiladas for later use, freeze them before adding the cream mixture.