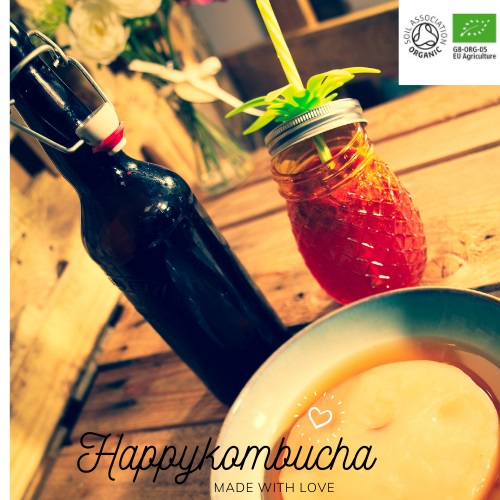 Interested in trying Kombucha? Try a Kombucha starter kit from Happy Kombucha to begin your Kombucha lifestyle.
What is Kombucha?
Kombucha is a fermented, sweetened tea drink that can have many health benefits. Kombucha has been around for almost 2,000 years, originating in China and spreading through Japan and Russia. It spread throughout Europe in the early 20th century and currently is quite popular due to its health benefits.
Benefits of Drinking Kombucha
Kombucha can help your digestive system. Since Kombucha is fermented, and fermentation makes probiotics, these probiotics can help with diarrhea and irritable bowel syndrome (IBS). It can also strengthen your immune system. It's also said to help you lose weight, prevent high blood pressure and heart disease.
Additionally, the green tea in many Kombucha brews contains antioxidants. Green tea has been known to help burn fat and prevent heart disease.
However, note that drinking too much Kombucha can lead to too much sugar and can cause bloating digestive issues.
Kombucha Starter Kit from Happy Kombucha
 Happy Kombucha offers several Kombucha Starter kits with everything you need to start fermenting your own Kombucha. Prices range from £18.50 to £66.95, depending on what accessories you want in your kit. A Kombucha starter kit is a great way to join the culture or to gift anyone looking to start a Kombucha journey.
Each kit comes with full instructions on paper and online tutorial videos. Additionally, all packaging is food grade and fully recyclable. Check out the available options to determine which one is right for you and customise your Kombucha starter kit.
First, customise the size for you. The Organic Kombucha Starter Kit comes in three sizes, small, medium and large. The small kit can brew one litre, the medium kit brews two litres, and you can get four litres from the large kit.
Next, decide if you want a heat tray. You also have the option for a heat tray to keep the Kombucha at the optimal temperature, around 70F. The large kit can fit two jars and the small and medium kits both fit one. Heat trays cost about £20 to £30.
Add in tea and sugar. With the Simple- Organic Kombucha Starter Kit, you also have the option to add a tea and sugar pack for just £3. The small and medium-sized kits come with 10 Green teabags and 200G of sugar, while the large kit has 20 teabags and 400G of sugar.
Quality Sourcing for Kombucha Starter Kit
Happy Kombucha ensures high quality products with quality jars. Their Kombucha Scobies are grown in soil association certified, GMO-free, and picked and packed to order daily. Happy Kombucha is a registered food company with a 5 star hygiene rating and a full staff of level two certified food handlers. And, your Kombucha starter kit is guaranteed to work.
If you have questions about your order, Happy Kombucha offers culture experts to chat at any point for help.
So, what are you waiting for? Get your lifetime supply of Kombucha culture with a Kombucha starter kit from Happy Kombucha.