Exploring The Best Thai Snacks In The World: A Journey Through Thai Cuisine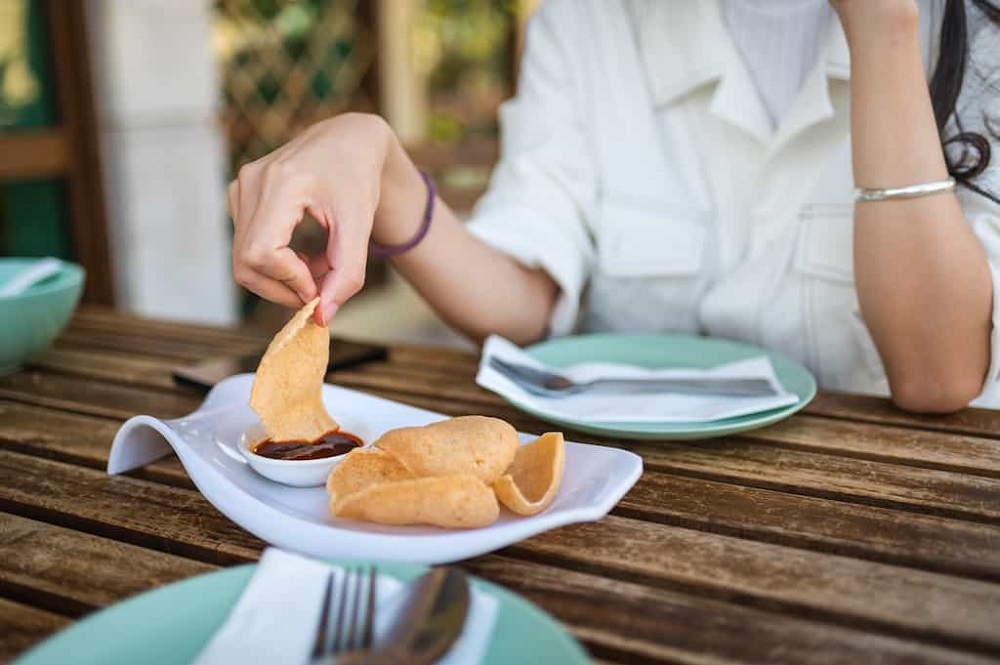 The rich and intricate flavours of Thai food are well-known. It offers various tastes and textures that will please any palate, from sweet to savoury, spicy to sour. We'll explore the best Asian snacks and what makes the world's top snacks so special as we go across them in this post.
Khao Tang Na Tang
Crispy rice crackers with a sweet and savoury shrimp paste dip make up the popular snack Khao Tang Na Tang or Crispy Rice with Sweet Shrimp Paste. The rice grains used to make the rice crackers are deep-fried, giving them a crispy and airy quality. The shrimp paste dip has a distinctive and delectable flavour since it is produced from shrimp, garlic, chilli, and palm sugar.
Miang Kham
A traditional Thai food called miang kham is ideal for people who enjoy strong, hot flavours. The dish comprises tiny bite-sized packages of various ingredients, including roasted coconut flakes, peanuts, dried prawns, shallots, and lime, all wrapped in a leaf of the wild pepper plant. This snack creates a mouth-watering explosion of tastes because of the blend of sweet, sour, salty, and spicy flavours.
Tod Mun Pla
Thai fish cakes, or tod mun pla, are a special street meal that residents and visitors enjoy. Fish paste, curry paste, and kaffir lime leaves are combined to make the fish cakes, which are then deep-fried till crispy on the exterior and soft on the inside. They are typically served with a hot chilli sauce and a sweet and tart cucumber relish.
Best Asian Snacks: Thai Snacks That Top The List
Asian and Thai are among the greatest in the world regarding snacks. They provide a special fusion of tastes and sensations to satisfy any appetite. Here are some of the best Asian snacks that are currently available.
Tom Yum Kung Chips: Tom Yum Kung Chips are a distinctive and tasty variation of regular potato chips. The greatest Asian snacks are created from crispy, thinly sliced cassava spiced with the hot and sour flavours of Tom Yum Kung, a famous Thai soup containing shrimp, lemongrass, and chile. Those who want a spicy and sour snack will adore these chips.
Tao Kae Noi Seaweed: A worldwide cult has developed around the famous Thai snack, Tao Kae Noi Seaweed. It comprises strips of roasted seaweed flavoured with various ingredients, including wasabi, cheese, and hot tom. These are the top Asian treats.
Conclusion
Thai snacks are some of the world's best because they give various tastes and textures. Everyone can appreciate something, whether they prefer something savoury, sweet, spicy, or sour. These snacks will tempt your taste buds whether you enjoy street food or prefer a more elegant dining experience. To experience Thai food's rich and complex flavours, try one of these delectable best Asian snacks the next time you crave something tasty.