Give your bowl of noodles a veggie twist with this Paneer noodles fry recipe!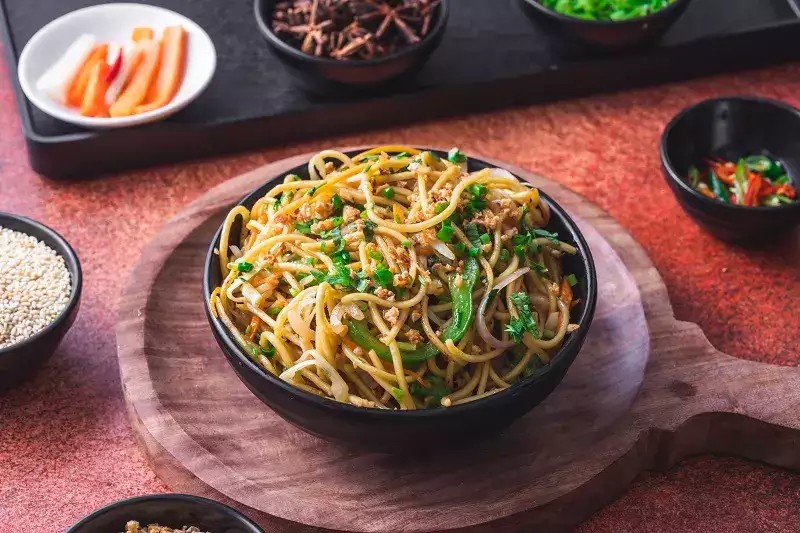 Noodles are a widely consumed type of food product that is loved and savoured across the globe. Noodles are consumed in various forms and flavours in different cultures and different parts of the world. Traditionally made from a dough, noodles are formed by turning the dough into thin and long groups of strands that are delicious to eat.
In Japan, noodles are consumed in the form of Ramen which consists of noodles that are immersed in a flavourful broth along with a non-vegetarian source of protein. In China, noodles are mostly consumed as Chow Mein which consists of stir-fried noodles along with vegetables and a source of protein, mostly meat or tofu. Whereas in Italy, noodles are consumed in different shapes, with the most consumed form of noodles known as spaghetti.
In this recipe, we are going to create a unique noodle dish with the goodness of vegetarian protein and the nutrients of vegetables. This recipe will be easy to prepare as we will be using yippee noodles that we can directly cook in water. This recipe will also be a healthier option as we will select Power Up Atta Noodles from the yippee range of noodles.
The Power Up Atta Noodles are made from whole wheat atta, and they also contain the goodness of vegetables in each strand. We will also use Paneer as our vegetarian source of protein which will increase the nutrient content of our dish. This unique noodle dish will be easy to make, flavourful to eat and filled with nutritious qualities.
Ingredient List:
1 Yippee! Power Up Atta Noodles (70g)
2 tbsp Spring Onion (sliced thinly)
¼ cup Carrot (sliced thinly)
1 Chilli (sliced)
¼ cup Green Capsicum (sliced)
¼ cup Cabbage (chopped)
1 inch Ginger (finely chopped)
1/3 cup Paneer (cubed)
2 tbsp Spring Onion Greens
1 tbsp Chilli Sauce
½ tsp Soya Sauce
½ tsp Vinegar
Salt as required
2 Cups Water
1 tbsp Oil
1 tbsp Cornflour Slurry (1 tbsp Cornflour + ¾ Cup Water)
Preparation:
Take a packet of Yippee! Power Up Atta Noodles (70g) and cook the noodles separately in 2 cups of water without the provided packet of Masala Mix. Cook the noodles on a medium flame for 3-4 minutes till the noodles become soft. Strain any excess water from the noodles.
Take another pan and add oil and ginger to it, mix for a few seconds till the mixture becomes golden brown. Now, add spring onion, carrot and green chilli to the mixture and stir fry for a few seconds.
Then add capsicum, salt (as required), cabbage and paneer cubes and continue to stir fry the mixture for about 30 seconds. Then add chilli sauce, soy sauce, vinegar to it and mix well till the ingredients become uniform.
Now, take the Power Up Masala that we kept aside in the beginning and add it along with ¼ cup water to the mix. Add Cornflour Slurry to the mix and bring it to a boil. Finally, add cooked noodles to this mixture and stir well.